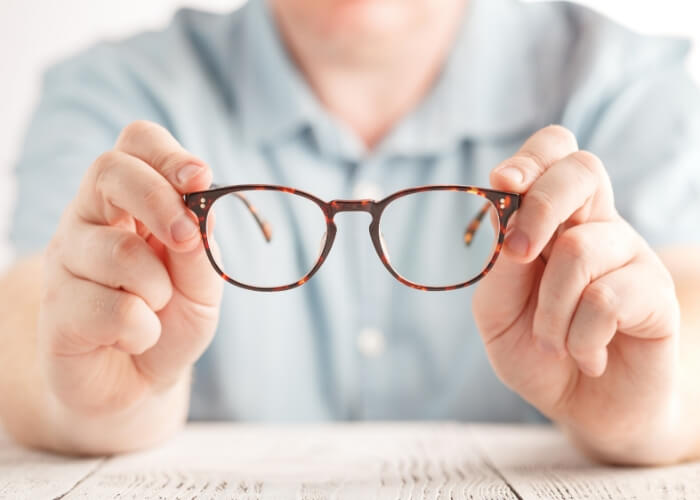 Kentucky Eye Care opticians take pride in their profession and maintain up-to-date skills and knowledge in order to handle your prescription with care and competence. Holding national certifications to fit eyeglasses, they're wonderful at assisting you in choosing the right pair of eyewear frames to support your vision, the contour of your face and your style.
At all of our locations, you'll find a wide variety of fashionable designer frames and sunglasses that come with either prescription or non-prescription lenses. Our selection includes rimless, metal, plastic, and titanium frames—most of which can be custom-ordered to make the perfect fit for you.
Every frame purchase includes a protective carrying case for you to take home, but we understand that glasses used for everyday wear can become bent out of shape. We pride ourselves on offering free adjustments and cleaning any time you might need it.
In addition to your prescription, all frames come with a variety of lens options and materials that employ the latest technology in prescription glasses. These include:
Crizal® No-Glare (Anti-Reflective) Lenses that reduce glare and enhance visual clarity, improving vision for both day and night by reducing bright sunlight or the glare from oncoming headlights in nighttime traffic.
Varilux® Progressive Lenses that feature a continuous, clear field of vision from distance through the mid-range to near, providing more natural vision than bifocal lenses might.
Polarized Sunglass Lenses that have less than half the glare of regular tinted lenses and include scratch-resistant coating and ultraviolet protection, providing the highest of optical quality.
For the budget-conscious family or individual, we also offer specialty eyewear packages that allow you to select from a variety of frames and quality materials to find the perfect pair of glasses to complement your style at an unbelievable price.
Need to update your eyeglasses prescription? Request an appointment today.