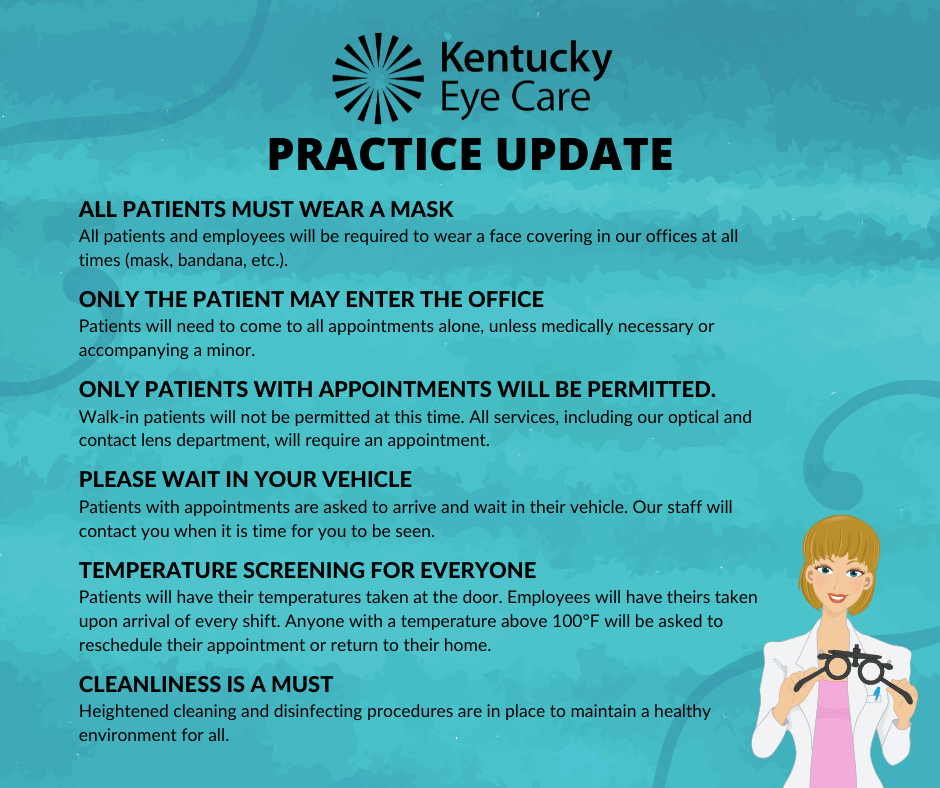 At the recommendation of the Kentucky Medical Association and the American Academy of Ophthalmology, Kentucky Eye Care has decided to minimize possible exposure to the COVID-19 illness and will only be seeing patients with an urgent medical condition until further notice. All scheduled appointments are postponed at this time. Our staff will be working diligently on contacting those patients and rescheduling appointments over the next few days.
If you feel you need to be seen by a physician due to an urgent medical condition, please contact our Emergency Appointment Specialists line at (502.896-8700 and select option 9. Our staff will be available Monday – Friday, 8 am – 4:30 pm to address all emergency calls. When speaking with our Emergency Appointment staff, please let them know if you have or are currently experiencing fever, cough, shortness of breath, or fatigue.
Kentucky Eye Care is also offering Telemedicine for patients experiencing any of the following symptoms. Please let our Emergency Appointment Specialist know you are interested in participating in a virtual exam, billable to your insurance.
Pink Eye
Itching
Dry Eye
Light Sensitive
Mucus or Discharge
Allergic Eyes
Red Eye
Swelling
Watery Eyes
Bump on The Eyelid
Crusty Eyelashes
Droopy Eyelid
Eye Irritation