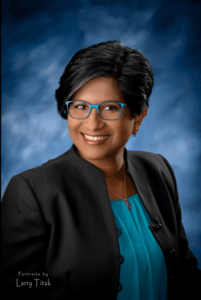 Dr. Nandini Menon specializes in Comprehensive Ophthalmology, Cataract, and Refractive Surgery. She also sees patients for diabetic, macular, and other medical conditions, including glaucoma. With more than 20 years of experience, Dr Menon also offers her expertise in Astigmatism correction, Multifocal Implants, Micro Invasive Glaucoma Surgery (MIGs), basic eyelid procedures, and Botox.
Dr. Menon completed her Ophthalmology residency at Northwestern University, where she was named Chief Resident. During her time there, she established a clinic for the care of an underserved population at the Northwestern Faculty Foundation. Dr. Menon received her medical degree at Kasturba Medical College in Karnataka, India. She worked as a physician and in the practice of Ophthalmology in Malaysia for four years before coming to the United States
Dr. Menon is board certified by the American Board of Ophthalmology. She is professionally affiliated with the American Society of Cataract and Refractive Surgeons, American Academy of Ophthalmology. American Medical Association, Illinois Medical Council, Malaysian Medical Association, Malaysian Medical Council. and Karnataka Medical Council.
Dr. Menon is dedicated to enhancing the lives of her patients. She strives to provide excellent and personalized eye care for all. In her spare time she loves exploring and observing nature with her husband and fur baby, travel, music, and experimenting with different cuisines.
Dr. Menon's schedule is open and will be seeing patients at our Preston Highway office.