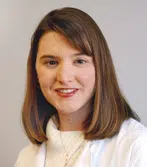 Dr. Julie Hogan is a native of Kankakee, Illinois. She received her Bachelors of Science degree in Biology from the University of Illinois in Champaign-Urbana. After graduation, she attended optometry school at Southern College of Optometry in Memphis, Tennessee. While there, Dr. Hogan was involved in extensive dry eye research, the results of which are published in several articles. She received the Biocompatibles Eyecare Innovative Research Award for this work in 2001. She also received awards for excellence in clinical skills in 2000, 2001 and 2002. She was also awarded for her skills in contact lens patient care. She graduated in May of 2002 and went on to complete a residency program with emphasis in ocular disease the following year.
Dr. Julie Hogan is available for comprehensive eye examinations including diagnosis and treatment of eye disease and contact lens fittings. She fits a wide variety of lenses including soft, rigid gas permeable, astigmatic and bifocal lenses.
Dr. Hogan joined Kentucky Eye Care in January 2022.