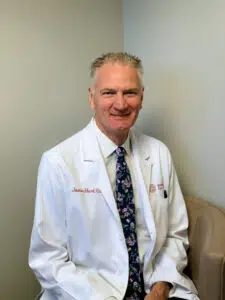 Dr. James Hurt is a native of New Albany, IN. He attended Anderson University for his undergraduate studies and graduated in 1984 from the School of Optometry at Indiana University. During his final year of study, he completed externships at the Ireland Army Hospital in Ft. Knox and the London Refraction Hospital in London, England.
In 2011, when Board Certification was established in optometry, Dr. Hurt was in the 1% of optometrists to be initially certified by the American Board of Optometry. This level of certification is obtained by attending a greater number of hours of continuing education courses, passing rigorous written exams, and committing to lifelong learning.
Dr. Hurt is available for comprehensive eye examinations. Working extensively with the cataract and refractive surgery patients, Dr. Hurt takes pride in obtaining the very best vision for each individual. He also performs contact lens fittings using the latest technologically advanced materials. He fits a wide variety of lenses including soft, rigid gas permeable, astigmatic, keratoconic, and bifocal lenses.
Dr. Hurt Joined Kentucky Eye Care in January 2022.